Donald trump's confrontations with foreign countries about trade are making headlines worldwide. Countries like Canada, Mexico, Japan,  and China are all concerned.  The United States president used to claim that any trade war with foreign countries would be easy to win, little did he know that China will prove him wrong.
The Chinese government instantly replied to the US sanctions by imposing taxes and similar sanctions on the major US exports and promised to retaliate with tariffs on everything no matter the cost causing disturbance in the markets. Existing sanctions such US tariffs on steel and aluminum and Chinese tariffs on American products like wine remain in place even though both countries recently agreed on a trade war truce.
Nevertheless, some commodities may actually be helped by the current situation. Cotton for instance have suffered from the Chinese wet weather resulting in  the decline of the country's stocks and potentially putting pressure on the government to still import the major part of the American $5.8 billion cotton exports.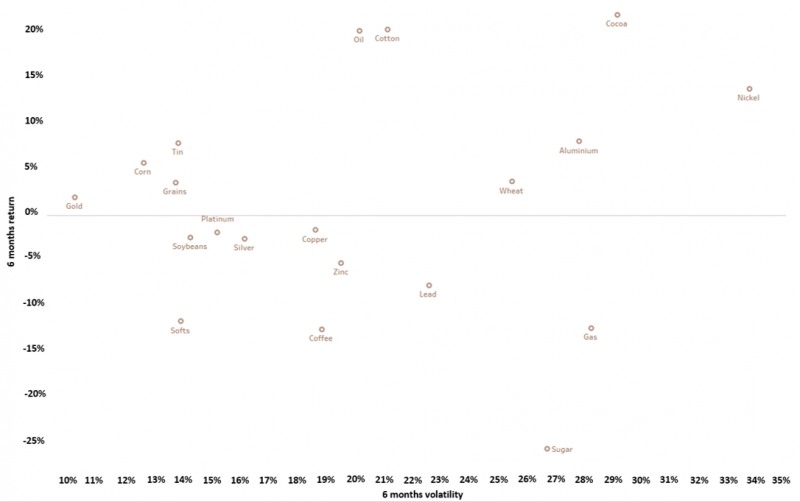 As can be seen on the graphic representing the 6 months cumulative returns with 6 months volatility for different commodities and comparing 101 beta strategies,  Cotton is one that wasn't affected by the market events.
Indeed, it seems that some commodities are quickly recovering and even showing strength as if the economical and political conditions disturbing the market long passed.
Take a look at the gas market,  there is still room to benefit from the truce as China's needs outpace its existing supply contracts and prices have been booming. Conditions that the US can benefit from if they succeed in obliterating the Saudi and Qatari competition.

Here represented are exchange traded commodities for aluminum, it can clearly be stated that performance was quite steady until the April sanctions and is now stabilizing due the truce.
Cocoa on the other hand is have been following an upward trend.

But how long will it last ? The unpredictable policies of  Donald Trump and other world leaders make it almost impossible to know what to expect in the near future.
Will there be any new disturbing policies? Will commodities strengthen and perform positively?
For more detailed analyses, sign up to our application by clicking here.