TAILORED DATA & REPORTING SOLUTIONS
dedicated to investment portfolios and ESG performance
GET STARTED Asset consolidation & data aggregation
Data collection, preparation and integration
Connect directly with your custodian banks, asset managers, private equity funds, benchmarks, ESG or credit ratings providers. Get security level reports, enriched issuers data and gather your liquid and illiquid assets in the same place. No data source will be left aside, as you can incorporate easily into your account all your partners data, irrespective of the format they use or their level of IT maturity.
Enrich your portfolio data thanks to tens of thousands of funds, ETFs, indices, securities, derivatives and market signals. Link your account with your internal or external research partners to take well informed and fact based investment decisions. Benefit from a fully tailored service, by a team of seasoned professional coming from the financial industry and able to turn your objectives into actionable dashboards and tools.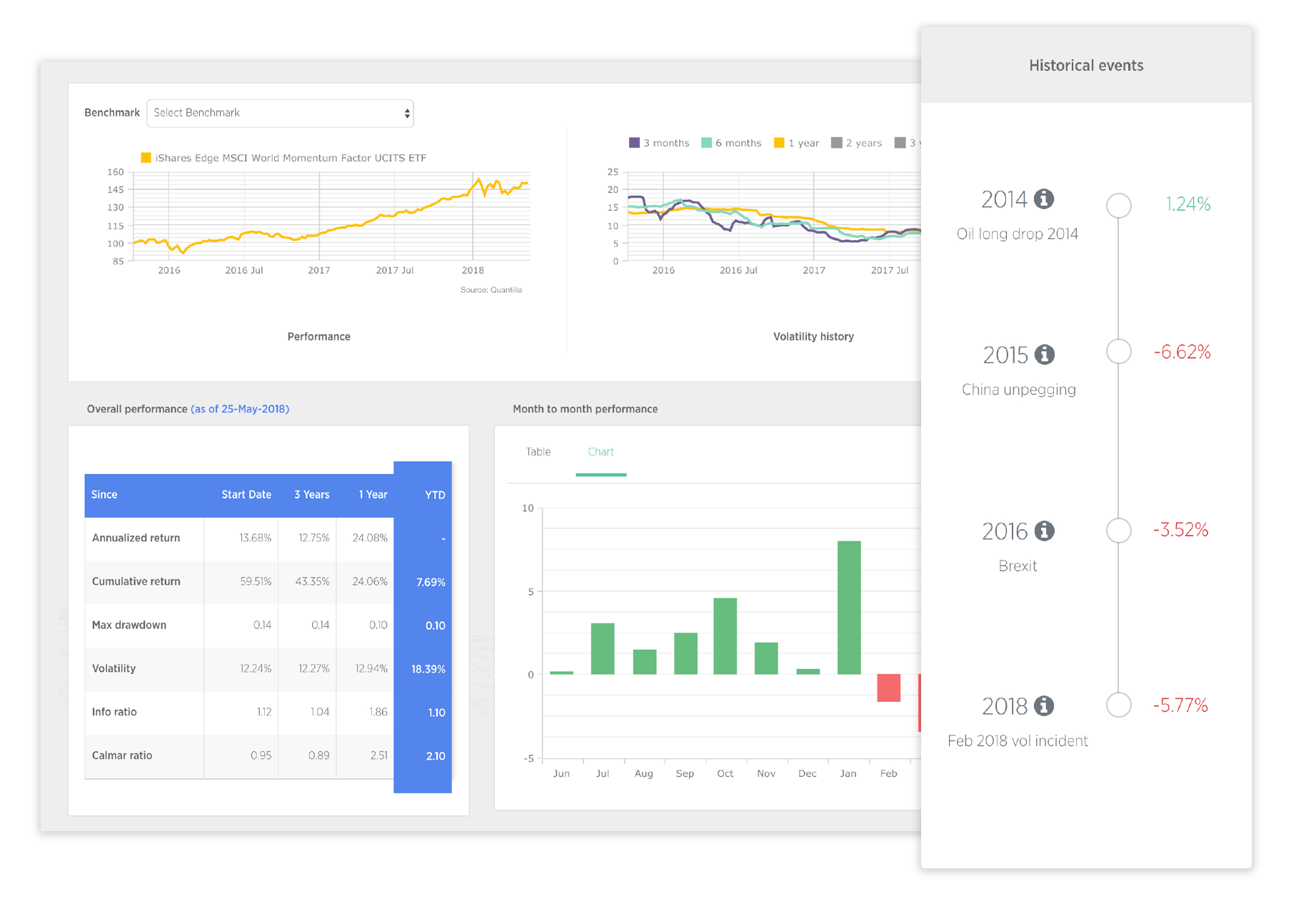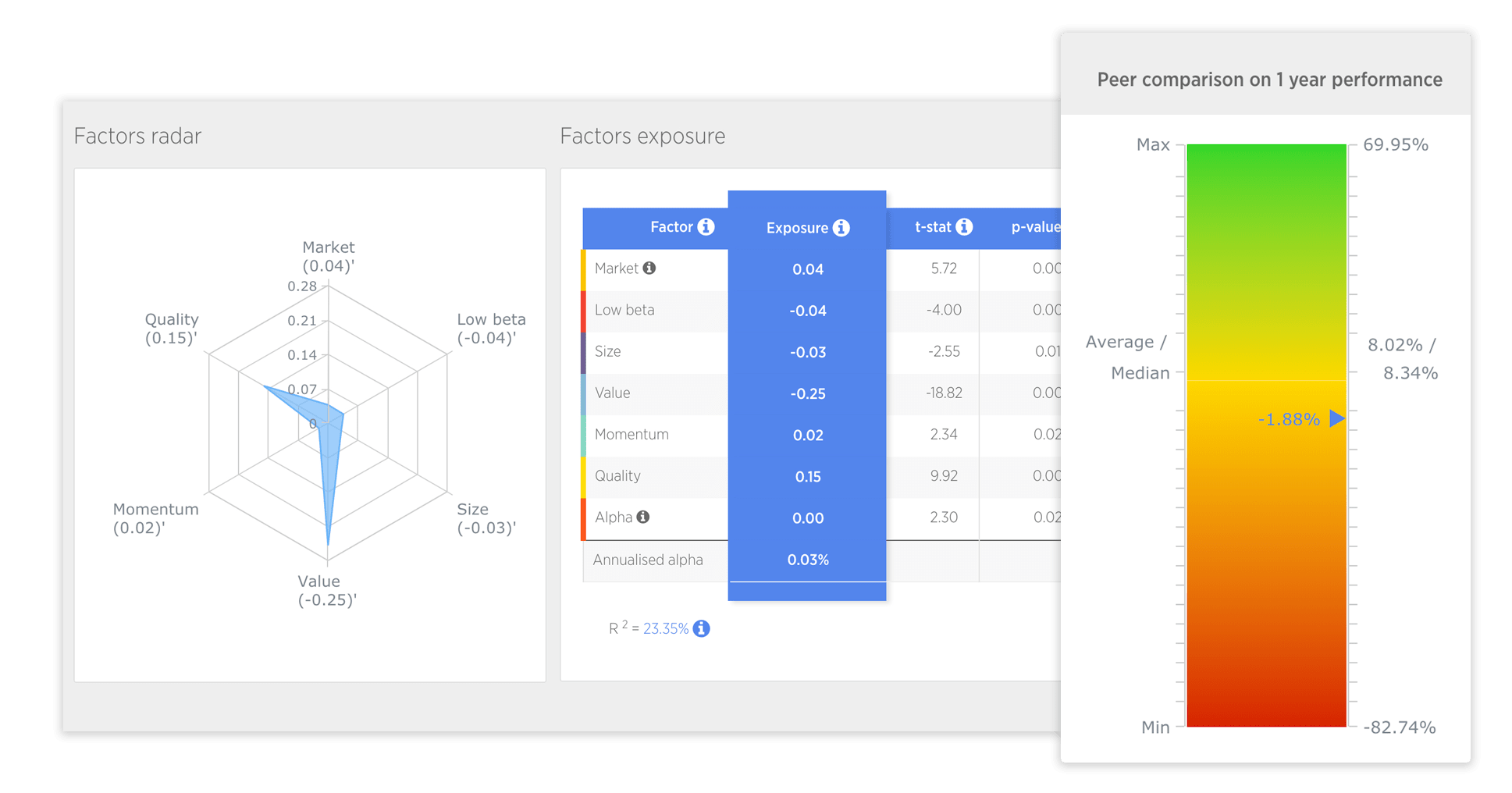 Rediscover your portfolio
Enhanced performance and risk analytics
Extensive analytics for actionable and prescriptive insight: performance contribution and attribution, factor analysis, risks reports, clustering, scenario analysis. Bring artificial intelligence to life with active learning clustering techniques. Define your favorite type of chart or tables, chose your metrics, input your own conventions and fiscal or accounting specificities.
Slash the time needed to analyse, exploit and categorize data. Benefit from enhanced visualisation tools with custom made display suited to each team and organisation, from portfolio managers to risk analysts.
Cross-asset portfolio and ESG monitoring tools
Achieve better financial and non-financial performance
Onboard all the assets of your portfolio, including private equity, real estate, private debt, infrastructure or cryptocurrencies, and this for any instrument type, like derivatives, funds and private mandates. Chose the type of file, document, visual and delivery channel you want for your reports, to always get the right information, at the right time and under the right format.
Benefit from our experience in the ESG field to create bespoke views and reports, for your regulatory or internal ESG reports. Leverage on the latest portfolio management techniques to enhance your financial and non-financial performances, to make your ESG policy a winning financial strategy.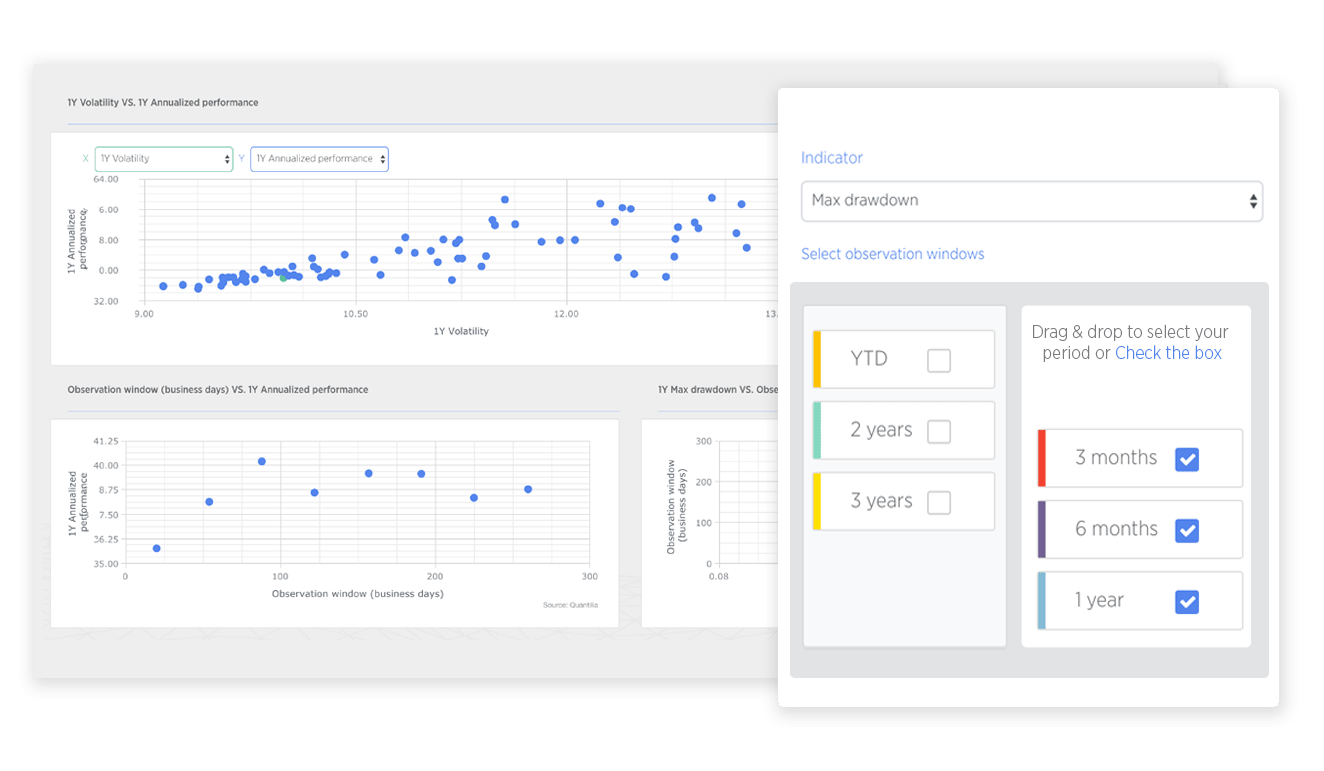 80B+ assets under reporting (USD)
300+ financial data sources
4 countries with active clients
"Quantilia brings scalability when it comes to using financial data. In a world where the amount of data is significantly increasing and where data crunching has become absolutely essential, this is a key success factor"
"Quantilia is pleased to work with clear-sighted financial actors who understand that their success rests on a better use of big amounts of data"
"Quantilia is the tool that was missing on the market to centralise all the required data on the same interface, and moreover providing an optimised user experience"